January 24, 2021
Lancaster Textile Care Collective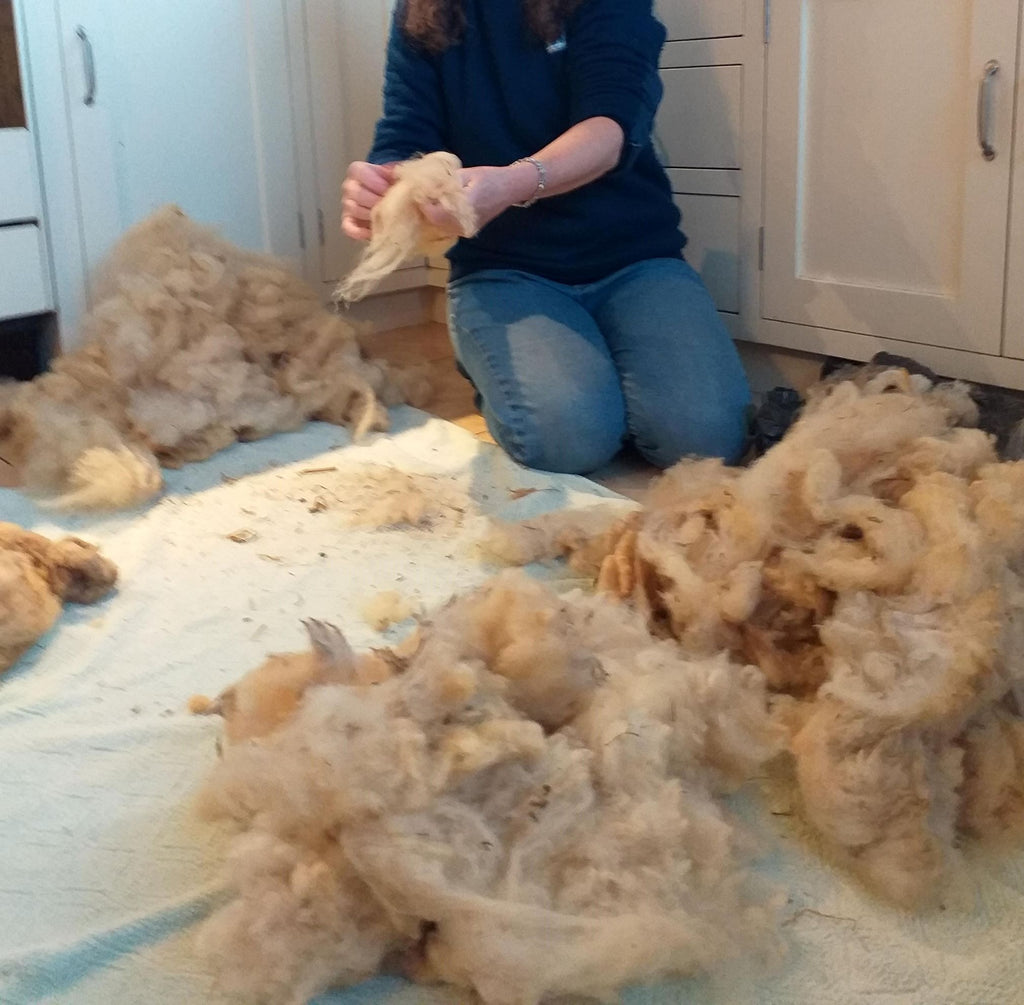 Recently I became involved in a local project which aims to reconnect makers and wearers of textiles with the stages of the process which the fibre goes through from start to finish. A group of enthusiastic makers was assembled via Zoom, with skills such as spinning, knitting, dyeing with natural dyes and a sheep farmer. The focus is very much at the local level, with an eventual aim of creating an interactive map which shows where the sheep live which make the wool, where to buy the wool, where to go for locally made textiles. The objective is to link the growers, makers and users of textiles.
So, for starters some of us went to see the sheep where the fleece comes from near Lancaster and came back with a lovely fleece from a South Downs sheep called Noddy. The spinners in the group took some fleece each and began the process of cleaning and sorting it (that's me in the photo surrounded by clouds of dirty fleece). Next it was washed and then carded to make it suitable for spinning. It came out beautifully soft and fluffy and is a delight to spin. Some of it will be spun undyed and some will be dyed with natural dye plants foraged and grown in the local area in and around Lancaster. I'm looking forward to this bit as I'm keen to learn more about foraging for dye plants. I'm also hoping to grow some of my own this year.
The group is also hoping to find some local alpaca fleece to spin and knit. The aim is to create three products from the fibres which will be sold to help local charities. Fingerless mittens and a lovely sleeveless top are being knitted already, and also a cowl will be made from alpaca. 
We each keep track of how much time we spend on each process, so that we can show people how much work actually goes in to making a product by hand and raise awareness of the labour involved behind making textiles.
This is a wonderful project to be involved in and I'm so pleased to be given the chance to take part.